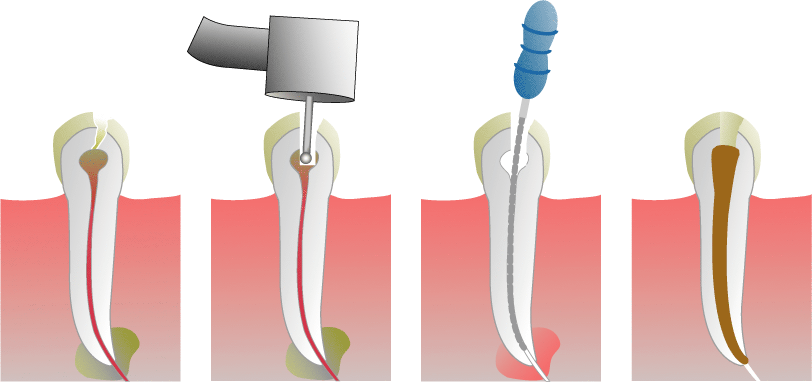 Root Canal Treatment
If you've ever experienced the problem of tooth decay, then you've most likely heard of a root canal treatment. More commonly known as just a root canal, this is a common treatment option in the field of dentistry that involves the removal of pulp from the tooth's center while filling up the pulp cavity. Preventing infectious development in the pulp, root canal treatment helps prevent the spread of damage to other teeth. This treatment option also addresses the issue of an abscessed tooth.
Why Would You Need A Root Canal Treatment?
In case of severe infection or damage in the tooth pulp, a root canal treatment is typically recommended. Untreated cavity is one of the common causes for this infection as the tooth pulp can be affected by inflammation as a result of restorative work or trauma. At times, application of dental fillings in a short span of time also affects the pulp. The inflammation is the root cause of infection with tooth ache being the most common sign of this condition.
 Which Root Canal Treatment Strategy Would Your Dentist Choose?
Basically, the procedure can either involve a single root canal but, a second root canal may be needed for the same tooth. While both types of root canals are the same, the root canal performed the second time comes with additional costs and requires more time. The reason behind this is the fact that the dentist will have to ensure the removal of past fillings to perform the procedure again.
About the Procedure
The success of a root canal treatment greatly depends on the skills and experience of the dentist performing the procedure. The first step involves numbing the patient's gums with a jelly-like material. Once this is done, a local anesthetic is injected for numbing the gums, teeth as well as the associated area completely. In some cases, a gas is used for reducing pain and promoting relaxation.
The decayed tooth is typically separated from the teeth close to it with a small rubber sheet, which aids in stopping liquid as well as tooth chips from entering the mouth. A drill serves the purpose of removing the pulp, after which the inner part of the tooth is filled with temporary filling and finally, the root canal filling. Following this procedure, a dental crown may be required, depending on the particular dental needs of the patient. If the crown is needed, any decay in the tooth is removed and the tooth's impression is made, which helps in developing a successful crown.